Covert or Overt?


When it comes to governmental, personal and commercial security, one might wonder, is it better to be Covert or Overt.
In other words is it better for a cop to sit hidden on the side of the road waiting to catch someone speeding, or would it be more advantageous to wait in plain sight, sporting a bright orange police car that could be seen from miles away?
Is it better to catch a person who committed a crime or prevent the crime from happening in the first place?
co•vert

Not openly acknowledged or displayed.
"covert operations against the dictatorship"
synonyms: secret, furtive, clandestine, surreptitious, stealthy, cloak-and-dagger,hole-and-corner, backstairs, backroom, hidden, under-the-table,concealed, private, undercover, underground;

o•vert

Done or shown openly; plainly or readily apparent, not secret or hidden.
"an overt act of aggression"
synonyms: undisguised, unconcealed, plain (to see), clear, apparent, conspicuous, obvious, noticeable, manifest, patent, open, blatant;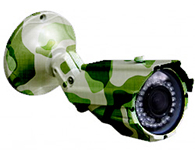 This is something you might want to consider when choosing your CCTV security system and cameras.
Do you want the cameras to be noticeable? That might make potential criminals think twice and hopefully deter them compliably before even committing a crime?
Do you want your cameras to be inconspicuous or even totally hidden?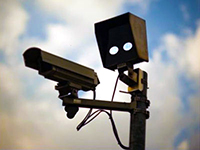 There are arguments for both, but it really depends on what you are trying to achieve.
Many people like for their security cameras to be very visible or overt. They believe that the noticeable presents of the cameras, is the first level of their security system, and will aid in preventing a possible theft or vandalism.
Although there are many styles of cameras available today, some people prefer to choose cameras with a very "Traditional Security Camera" look. This is usually a good option for retail stores or marketplace type businesses.
A good example of an overt security camera is the OB-EF700IR100L2812D-W Varifocal Bullet Security Camera sold by securitycameraking.com.
On the other hand there are people who are not only concerned with security, but the aesthetics of the cameras. This may be the case if you are a home owner or the proprietor of a business that caters to luxury, like a fancy boutique or restaurant.
In cases like this one may choose a more sleek and covert security camera like the 1.3 Megapixel IP Network Indoor Dome by Tech Pro Security Products.
Another situation may be when you are not necessarily trying to prevent a crime, but one where you absolutely want to catch someone RED handed. Maybe that sneaky babysitter or catching you're cheating husband! If so you might need a hidden security camera. These are cameras that are totally hidden from view or disguised as other items completely.
Popular models may look like, smoke detectors, motion detectors or even a stuffed animal like the popular, teddy bear security camera. Here are a few more that you might find interesting.
Should You Just Fake It?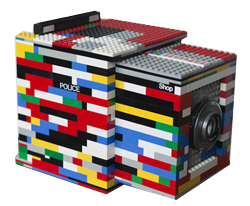 Maybe you are the type of person that feels a deterrent is good enough, or you just don't have the cash for a full blown security system. Don't fret, you have another option. You can get fake or dummy security cameras.
At first you might think this is a ridiculous idea, but think about it. You could give the appearance of being protected by security cameras, for a fraction of what it would cost for a full (working) security system. On top of that, installation is a snap.
fake

a thing that is not genuine; a forgery or sham.
"the painting was a fake"
synonyms: forgery, counterfeit, copy, pirate(d) copy, sham, fraud, hoax, imitation, mock-up, dummy, reproduction;

Should I Hide My DVR or Even Lock It Up?
Another thing you might want to think about is the placement of your DVR (digital video recorder) or NVR (network video recorder).
Most people might say, that's easy, I will just put it near the rest of my electronics or in a place that is easily accessible.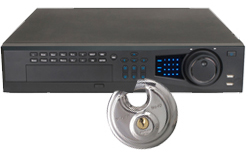 If you using your cameras to keep an eye on the kids, or see who's at the front door, that might be fine. But think about this, what good is catching a thief on camera if he decides to steal your DVR/NVR along with your brand new, 60″ LED smart TV? No recorder, no way to review the recorder video.
For this reason many people prefer to keep their recorder in an inconspicuous place, like in a bedroom closet on the top self. Another option is to use a lockbox. DVR or NVR lockboxes are exactly that, a metal box that encases your recorder. They can be locked and permanently mounted. This will ensure that the recorder cannot be easily stolen or tampered with. Both the lockboxes and mounting brackets can be found on www.securitycameraking.com
How will I view my Live or Recorded Video?
Many of the newer model recorders have VGA, HDMI and BNC video outputs built-in. You can simply hook up a monitor directly to the unit as you would any standard computer or laptop.
As a matter of fact this is the most common method used for the initial setup of the recorder. Once the setup is complete, you may want to leave the monitor connected. Then you will just manage the recorder or view your live or recorded video directly at the unit.
If your recorder has a network card and supports remote viewing, you can also disconnect the monitor and view or manage it remotely. All TechPro Security Products DVRs and NVRs have several options for remote viewing.
These options include using a web browser on your computer or laptop, as well as being able to use mobile devices such as iPhones, iPads, Android phones and tablets.
Conclusion?
As you can see when choosing a security camera system, there are several factors to consider beyond just the basics. With a little extra thought and planning, you will be sure to choose a solution that will fit your needs for the long term.
If you would like more information about anything discussed in this article, please visit the "CCTV Learning Center" at www.securitycameraking.com.