Use Smart PSS instead of Web Service
Smart PSS excels at Live viewing and playback.  In tech support, we really like that web service for configuration changes, and that is where it should be used as a quick way to make changes.  However, the Smart PSS is superior for viewing Live video and playback.  First off, you do not have to worry about installing the web plugin, active x, compatibility views, or any other computer related issue in getting that plugin to work.  You just install the executable file on PC or MAC, and you have software designed to manage all your Digital Video Recorders (DVR)s, Network Video Recorders (NVR)s, and cameras in one centralized software program.  You get the same interface in PC and MAC, so learning the interface one time will work for both platforms.  Let's gets started and go through the main benefits.
Manage all your devices in one place
The Device Manager allows you to add up to 50 Digital Video Recorders (DVR)s, Network Video Recorders (NVR)s, and cameras.  This is convenient if you have a business that has more than one DVR or NVR, or you want to use a local IP address and an external IP address in one software platform.  It is a good idea to have a DVR at Home and a DVR away so that you can use your Wi-Fi while you are at home for faster access to the DVR.  If you have more than one DVR or NVR, then this is where the SmartPSS really shines.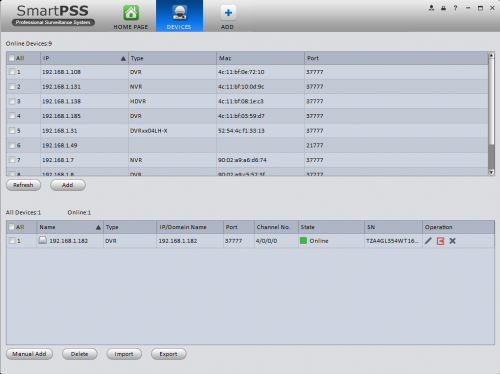 Create views for one or many DVRs and NVRs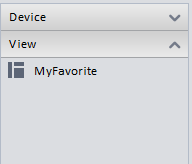 Creating a view is very easy in SmartPSS.  You simply drag the cameras that you want to any window.  This is very useful if you want to rearrange the order of your cameras without doing any changes to the back of the DVR or NVR.  Then you can save your views and have a quick access one click way to get to them.  What makes this really special is that you can create a view from multiple DVRs and NVRs.  For example, let's say you own a dry cleaner business and have four locations.  You can create a view called "front counters" and list all four counters from the four store locations.  If you only have one DVR, you can utilize the view feature to create different views for different needs.  Perhaps, you have multiple storage locations that you want to set up in one view that you only check occasionally.  Or perhaps you want to customize your main Live view, then drag it to your second monitor, and then make it full screen so you can see your specific cameras at all times.  Once you get started created views, the options are endless and you will find that more customization will allow you to organize your security.
Smart PSS is an excellent tool for playback and saving video
In the playback section, you select your date and cameras and hit the search button.  You will now see a timeline at the bottom of the screen providing that you are recording 24/7, and will have the option to synchronize video between windows.  If you selected more than one camera to search, start playing one camera and click the synchronize button to synchronize all the video feeds.  Let's say you searched for 4 cameras and want to watch synchronized video on all 4 at 10AM.  Click on 10AM on the first timeline and then hit the synchronize button, and all four videos will automatically synchronize at that time.
If you find something that you want to save, click the scissors on the right to start a snip. Then select an ending spot on the timeline and click the scissors a second time.  This will bring up a dialog box where you get to choose a save location on your hard drive.  It will create one file the length of your snipped selection.  Another option for saving videos is to click the Event button on the left to see all the files that make up your timeline.  Every hour is one file, so you can select which hours and cameras that you want based on your search criteria.  Also, by seeing the file sizes, you can do the math to determine the amount of Hard Drive space you will use while recording with all your cameras.  Many people have expressed interest in determining their Hard Drive usage, and Smart PSS is an excellent tool for that use as well.  All you need is one day of recording, and all cameras set at the same encoding settings to determine the hard drive space needed.  This is a very important feature for our I-502 (Washington's Marijuana Recreational Law) customers.

Everything changes if you are using motion recording.  Every motion event is one file and you will not be able to synchronize video since all motion events will be at different times.   If you are trying to play slivers of video created by motion, use the magnifying option to zoom in on the timeline to make it easy to select those video files.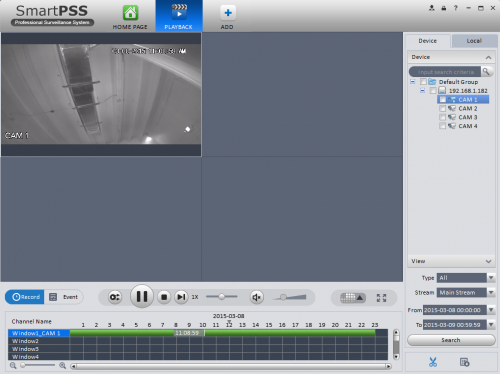 What is the Accounts section of Smart PSS
There is a default account of username admin with a password of admin.  This account has nothing to do with your DVR or NVR.  This software is designed to manage multiple devices, so the passwords for those devices are controlled in Devices under Settings.  The user section of the software is for you to control the accessibility of the software program.  You can eliminate buttons and options at the software level to control accessibility to the DVR or NVR. This gives you some flexibility limiting control at the Software level since you can use one admin login at the DVR level if you wish, and still lock down computers and the software to prevent certain functionality.