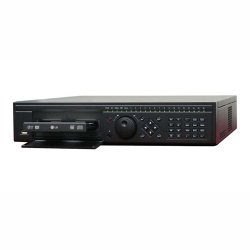 A Closed Circuit TeleVision or CCTV alarm system for the home provides the user with the best of both worlds.  Video monitoring and recording for documentation purposes and alarm notification that something is wrong.
There are basically three ways of achieving success with a CCTV alarm system.  First most upper end Digital Video Recorders or DVRs have connections for contact points on alarm system.  They also have output connections for lights or sirens, etc.
Another way of using a CCTV alarm system is to set your camera system up so that it alerts you under designated conditions.  All of our DVRs have the ability to send the user an e-mail as an alert notifications provided the DVR has access to broadband Internet service.
The third way to use your system as a CCTV alarm system is to hire professional, 24/7 monitoring security guards such as Digital Security Guard.  The on duty guard can notify you, the police, the fire department, etc. if something appears to jeopardize the security and safety of you or your home.
Let's take a closer look at each of the three methods to understand how they work.
First, using the DVR as the command center for an alarm system helps reduce the expense and confusion that could be created by owning a completed digital video camera system and an electric alarm.  To keep things straight, Security Camera King has connections for inputting contact points and outputting alarm out notifications to objects such as lights, sounds, etc.  This can eliminate the alarm base module and provide a way to place all of your security wires in one spot.
Secondly, all of Security Camera Kings DVRs have the ability to send the user an e-mail when a certain video condition occurs.  This is basically like a silent alarm.  This is a particularly useful feature for monitoring cars and people in "No Trespassing" areas.
Finally, one of the best ways to make your digital video system a CCTV alarm system is to hire a remote security guard to watch from one to all your cameras 24/7.  Our sister company, DigitalSecurityGuard.com does just that.  From our secure facility, we can monitor an unlimited number of your surveillance cameras simultaneously and ensure the security and safety of your home.We use nationally licensed and highly trained guards to monitor your digital video system and contact you, the authorities or anyone you designate, should they see an event occurring.
Security Camera King features several complete CCTV alarm system packages.  These packages are categorized by the number of channels the system can handle.  In addition to the number of cameras, these systems can also be categorized by DVR type.  There are 4 such DVRs available in our complete system packages.  They are the Elite Mini Economy, the Elite Mini HD, the Elite Series, and the Ultimate Series.
Besides number of channels and DVR type, security Camera King also offers these feature systems with two basic cabling options.  The first includes plug N play cables and the second is a bulk cable option.
The plug n play cable option includes a 100 foot long RG59/Power Cable complete with BNC connectors and power plugs terminating each end of the cable.   Basically, with these systems all that is needed is to mount the cameras run the cable and plug each of the cable ends into the camera and DVR and you have an up and running CCTV alarm system.
The bulk cable option includes a power distribution box(es) 500 feet or more of Siamese rg59/18-2 and all the BNC and Power plugs necessary to connect the cameras to the DVR and power supply.  The BNC connectors are twist-on connectors so no additional equipment is needed for these systems.  The bulk cable option is especially useful for cable runs over 100 feet in length or very short cable runs as well.
If you have any questions regarding the purchase, use, or installation of a Security Camera King CCTV alarm system package, contact one of our security experts today via on-line "Live Chat" or by telephone at 866-573-8878 Monday through Friday from 9AM to 6 PM EST.