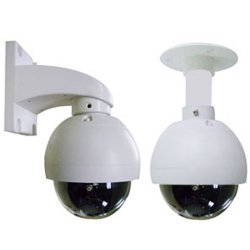 Wireless security cameras are designed for both indoor and outdoor use. A wireless camera requires no wires between the camera and the receiver. They are easy to install and can be moved from one location to another. Wireless cameras are available in many sizes and forms. The cameras capture black and white, color and infrared images. The security system connects to any computer, television or digital video recorder for easy viewing. To find the best wireless security camera for your home, decide how many cameras you need.
If you want to monitor the entire perimeter of your home, then you will need several cameras. Consider the image quality when choosing a camera. An HDTV camera has a higher resolution and will cover a larger area than a CCTV or an IP camera. The benefit of an IP camera is the fact that you can connect multiple cameras to your digital video recorder. IP cameras can connect to the Internet providing remote viewing from any computer. An Ethernet switch provides the power and the Internet connection. HDTV cameras are useful when you need to capture clear and precise images such as license plates or faces. Today's technology allows home security systems to be enabled or disabled by using a computer or smartphone.
To monitor the inside of your home, you can install burglar alarms on your windows and doors. Carbon monoxide, fire and flood alarms can easily be added to your home security system. Carbon monoxide is known as the silent killer because it has no smell or taste. Heat detectors are useful in areas of the home such as laundry rooms, garages and other places. Fire alarms can be monitored by a security company to contact you or the fire department. Flood alarms are used to detect the presence of water or moisture in the event you have pipes that burst or leak. They also monitor moisture levels to warn you of the presence of mold and mildew. Inspect these sensors on a regular basis to prevent the buildup of dirt and debris.
Home burglar alarms are helpful because they alert you to the presence of an intruder whether you are home or not. If you choose to have your burglar system monitored by a professional security company, they can install glass break sensors on your windows. They use single or double break technology to detect glass breakage. Single break technology will trigger the alarm from the sound of glass breaking. Double break technology must hear a thumping sound followed by the sound frequency of glass breaking before the alarm is triggered. Monitored home burglar systems may have to be adjusted to prevent false alarms. Many cities have penalties for frequent false alarms. False alarms cause local law enforcement to use resources that are needed elsewhere in the city.
Emergency health response systems are a good choice for people who have health problems, the elderly or just for the peace of mind. These emergency response systems can alert local authorities to the presence of a medical emergency inside your home. Panic buttons are located on the home security system's keypad and also by small remotes. You can choose to have the system contact you or the local emergency personnel. There are hidden indoor security cameras that can monitor your babysitter or any situation. These cameras are small and discreet and provide helpful information. They connect to a small digital video recorder and can be wired or wireless. Consult a professional home security company to determine which security system will work best in your home.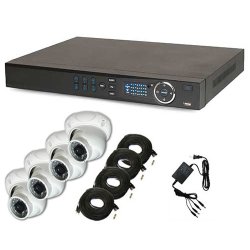 Combining a home security system with home safety tips will improve the security of you and your family. Don't hide a key under the door mat or anywhere else near the home. This will be the first place a burglar will look. You can buy locks for your doors that require opening with your fingerprints. This is a good idea if you are constantly losing your house keys. If one of your locks on your door breaks, be sure to replace it right away. Two cylinder locks are available but they require a key to open the door from the inside and out. This can cause a hazard if there is an emergency in the home and you need to leave quickly. Install deadbolt locks on sturdy doors that lead into your home. The deadbolt should be attached to the door's wood frame. Have a professional install your deadbolt locks if you're not sure how to install them. Access doors into your home should be made of steel, wood or fiberglass. This will help prevent a quick entry into your home by simply kicking it. Install modern kick plates on doors leading inside your home. Hollow doors without good locks are easily kicked in by burglars.
Outdoor lighting can improve the look of your home. It also helps to deter crime. Most burglars don't want to be seen and they like the cover of darkness. Install solar lights and motion detection sensors to lower your energy bills. If you have a privacy fence, you can add a beware of dog sign even if you don't have a dog. Place home security signs and decals on your windows and doors to alert a possible intruder that you have security. You can also purchase fake security cameras that look like a real working home security camera. Driveway and garage sensors can be installed to detect movement. Keep the garage secured and locked at all times. Don't leave the garage door open even when you are at home. This gives people who pass by the opportunity to stake out your garage. Lock the inside latch of your garage door with a padlock. Check your garage door remote to be sure it has rolling code technology. This technology changes your garage door code each time you enter the garage. If you must replace your garage door, choose one without windows to prevent a burglar from seeing if there is a car parked in the garage.
When you have a home security system installed, be sure to keep it activated even when you are at home. Many people either don't turn it on when they are home, or they forget to activate it when they leave. The key to protecting your family and home is to use the alarm system. It only takes an intruder a few minutes to enter your home and steal your possessions. Most burglars are looking for items that can be sold at the local pawn shop. Be sure to have your driver's license number engraved on your expensive electronics. The burglar won't be able to sell your items very easy. Keep curtains and drapes closed so they don't reveal your home's contents. Install sensors on all of the windows of your home. If an intruder tries to enter through the windows, an audible alarm will sound. This could be enough to send the burglar to another home.
Store your valuable jewelry, cash and weapons in a locked safe or a safe deposit box. If you purchase a safe for your home, you don't want a burglar to be able to carry it out. Have it bolted to the floor, or be sure it is too heavy to be carried easily. The outdoor storage shed should be kept locked at all times. Installing electronic gates will help to keep a burglar out of your backyard. If you have a privacy fence, a burglar can get into the backyard and remain invisible to the neighbors. Get to know all of your neighbors in your neighborhood. Join your local crime watch program or start a new one. Most law enforcement agencies have crime prevention programs that you can join. Learn about the crime risk in your area. When you go on vacation, notify a neighbor to watch your property. Install timers for the inside lights of your home. This will make your home look like someone is home even when they're not. If everyone in the neighborhood becomes familiar with who should or shouldn't be there, then the community is safer. Most burglars will park down the street before walking up to your home. Neighborhood watch programs teach people to report suspicious vehicles.
Apartment and condo residents have the same security needs as anyone living in a single-family home. When you move into an apartment or condo, have the maintenance staff change the locks. You don't know whether the old tenants still have a key or not. Getting to know your neighbors is important. Report any suspicious people or activities to the neighborhood's security team or local law enforcement. Reinforce sliding glass doors with a wooden bar, and never leave your doors unlocked. Purchase renters insurance to cover your possessions in case they are stolen. Don't go to the laundromat at night, and be sure the apartment's parking areas are well-lit. Ask the staff if you are allowed to install a security system in your apartment. Call a professional burglar alarm service to install the security system.
When you purchase new electronics don't put the boxes out with the regular trash. This will alert a possible thief to the fact that you have this item. Break the boxes down and place them in plastic garbage bags. Online social media sites are a great way to show family and friends your vacation photos. They can also be a tool for an intruder to know that you're out of town or when you will be leaving. It's hard to imagine but the risk is still there. Take care about who you tell about your vacation plans. Leave a spare key with a trusted neighbor or family member. Have them check on your property while you are away. They can pick up your mail, newspapers and any flyers attached to your door. It would be ideal for them to open the drapes in the morning and close them at night. You can also ask your neighbor to park their vehicle in your driveway. You want to convey the message that someone is at home.
If you are selling your home without the use of a real estate agent, there are a few security precautions you should keep in mind. Show your home by appointment only. Don't set an appointment to show your home when you are alone. When you decide to have an open house, clear the rooms of valuables and electronics. It's best to sell a home with a minimum amount of personal possessions. If you use a real estate agent and they want to place a virtual tour of your home on their website, then be sure there are no expensive items or electronics in view. Some criminals check these out to choose a property to burglarize later when no one is home. If you are buying a new home, have the locks changed as soon as possible.
A safe room is a room that is reinforced with a lot of concrete and steel. They are used for emergencies such as bad weather or a home intrusion. Adding a safe room to your home will improve your home's security plan. Keep bottled water, snacks and a cellphone in your safe room. A phone that is connected to a land line is also helpful to phone the authorities from inside the safe room. A land line phone will give your home address to local law enforcement agencies just by dialing 911. If an intruder enters your home, you can run to the safe room. Teach family members about home security safety tips and the use of the safe room. Search the Internet to learn more about installing a safe room in your home. There are many ways you can improve the security of your home. When you combine many security techniques they become a powerful deterrent for an intruder. If you make your home difficult to enter, and you have outdoor surveillance equipment, an intruder may decide to go to another home.