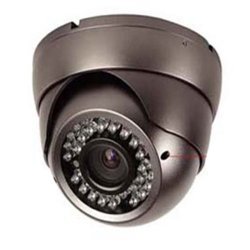 Outdoor security camera systems are useful for both business and residential applications. These digital video security systems can provide perimeter or boundary coverage, provide advance alerts of potential guests or intruders, and provide real-time video surveillance of outdoor business structures such as buildings, towers, tanks, and many other items.
Outdoor security camera systems may be used as a monitoring system only where the camera is directly connected to a monitor or as a monitoring and recording system where the camera is connected to a Digital Video Recorder or DVR and a monitor. In either case one to several cameras can be used an connected to one or several DVRs and/or monitors.
Most outdoor security camera systems operate in the following manner. The camera or cameras sends video data to the DVR (which also has an on-board video processor). The processor compiles the data into a digital video file which may be viewed instantly (live) on the monitor(s) or saved to the DVR for later use. If an outdoor security camera system does not have a DVR, the signal is sent directly to the monitor and is not recorded.
Outdoor security cameras are basically the same as indoor security cameras except the cameras are housed in a protective enclosure. This enclosure allows the camera to operate, but protects it from the elements and other unnatural objects. This is important because if dust were allowed in the housing, the camera's lens could become dirty or worse yet, moving parts of the camera could stop working or become damaged. Water could cause electrical shorts or rust metal parts.
Most high quality outdoor security camera systems provide a rating in the camera's specifications as to the protection they do provide against weather and other elements. This rating is based on the International Electrotechnical Commission's Ingress Protection Code or IP rating. The IP rating consists of two numbers following the letters "IP."
The first digit in the rating represents the protection afforded against solids; the larger the number the smaller the object the camera is protected against. The second digit in the rating represents the protection afforded against liquids; the larger the number the more intense the exposure to water that it is protected against. A good quality outdoor security camera system should have a camera rating of at least IP65. This means no ingress of dust and water projected by a nozzle will have no harmful affects on the equipment. As a matter of reference the IP scale ranges from 0 to 6 for the first digit and 0 to 8 for the second.
As mentioned at the beginning of this article, there are several applications and therefore several types of outdoor security camera systems. The following is a more extensive list of some of these applications:
• Residential/Business outdoor security and surveillance
• Residential driveway monitors
• Commercial parking lot monitors
• Pet and wild animal monitors
• Aircraft and watercraft security and surveillance
• Industrial structure monitors
• Rear-view backup monitors for vehicles
• Pool monitors
• Barn and other farming areas security and surveillance
• Building entrance/exit monitors
Of course with the amazing versatility that outdoor security camera systems offer, there are many, many more applications in addition to the ones listed above.
One of the reasons why outdoor security camera systems can be used in so many ways is because of the features or additional options they can offer. Here's a partial list of some of those features and options:
• Audio recording
• Day/night vision cameras sensitive to .002 lux (the same lighting conditions found in clear, non-moonlit sky)
• Night Infrared vision cameras (able to capture images in total darkness with illumination that is invisible to the human eye)
• Pan-Tilt-Zoom or PTZ control that allows the camera to move horizontally, vertically, and with telephoto type capabilities
• Motion detector activated cameras
• Outdoor security camera systems that can detect motion and follow or "track" moving objects
• Portable all-in-one units that are battery operated and contain Flash cards and/or other media with which to store video footage
• IP or Internet Protocol ready cameras that can connect directly to, and be networked on, the internet
• Systems that can notify you of activation via e-mail or smartphones
As you can see, the versatility in application of outdoor security camera systems is immense. A system can be created for just about any need. If you need more information, contact one of our security experts.