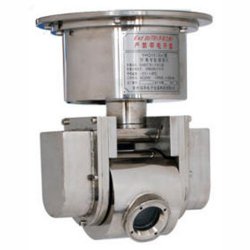 Security video cameras are one of three major components of today's digital video security systems which also consist of a Digital Video Recorder or DVR and one or more monitors.  The digital video camera is an interesting piece of electronic wonder, and as technology continues to advance so do the features and abilities of the security video camera.
In this article, we'll take a look at how a security video camera operates.  We'll also take a look at some of the more common features and options that are available on today's digital video security cameras.
Security video cameras are electronic based devices that transfer light images into electrical images that can be viewed on a monitor.   One of the key factors in accomplishing this is the electronic sensor that is used inside the camera to do the conversion.  Cameras make use of one of two different technologies with either one yielding the same end result.
These sensors are called a Charged Coupled Device or CCD and a Complementary Metal Oxide Semiconductor or CMOS.  The lenses focus the light image onto this small sensor chip (most range from about 1/4 inch 1/2 inch square).  The chip is sensitive to light energy in such a way that when light strikes the chip and electrical impulse is created that can be measured and used to construct a video image.
Ironically, even in digital security video cameras, the video signal that is created is originally analog in nature.   The signal is passed through a special Integrated Circuit or IC chip known as a analog-to-digital converter as well as a Digital Signal Processor or DSP before it is sent out the camera to the DVR.  In most systems the signal is sent along a cable (RG-59, CAT5, etc) from the camera directly to the DVR or monitor; hence the often used phrase "Closed Circuit TeleVision" or CCTV.
Once the video data reaches the DVR, it must be worked on some more by the DVRs DSP.  The data is gathered or compiled into a file called a digital video file.  Security video cameras create digital video files that can be played back by most personal computers and DVD players.  This digital video file is actually several digital photographs taken in raped succession over a very short time (usually around 30 photographs or frames per second or 30 fps).
The digital video file can quickly become several Gigabytes in size, especially when there are multiple cameras (which is usually the norm) recording at the same time.  There fore to make handling of the file easier for the processor and to get the maximum amount of time-recording per given storage capacity, the file is reduced to a fraction of its original size.
This is done by a COmpression/DECompression or CODEC utility.  The utility may be hardwired (usually an IC chip) or it may exist in the form of software.  Basically, a CODEC is a mathematical algorithm that finds a way to store repetitive data only once, thereby reducing file size while maintaining video quality.  Security Camera King's DVRs all use the latest, most efficient CODEC known as H.264.
Security video cameras come in a variety of shapes, sizes, features, and price ranges.  Covering all of these variations is by far, beyond the capacity of this article, however we will attempt to try to cover some of the more popular characteristics.  If you would like additional more specific information on a camera variation, try searching our knowledge base for more information.
There are basically four types of security video cameras based on shape.  They are:
Box cameras;
Bullet cameras;
Dome cameras; and,
A variety of different hidden or disguised cameras that take the shape of the device they are built into.
These cameras are further made in one of three different styles based on where they are intended to be used.  These are:
Indoor cameras;
Outdoor cameras; and,
Indoor/Outdoor cameras.
In addition, cameras can come with a myriad of features.  Depending on the manufacturer and camera model, some features may be considered standard issue for the camera while others will be considered an option, usually with an additional cost:
Infrared night vision;
Pan-Tilt-Zoom (PTZ);
Motion detection;
Very high resolution output;
Audio capability;
Internet compatible;
Explosion proof; and,
Wireless.
Generally speaking, if you have a specific security video camera need, there's one out there that can nicely fit the bill.