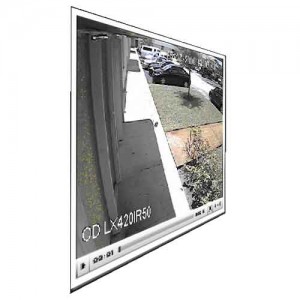 Security video software is a very broad term that can be used for many different functions. Security software is normally a responsibility of the Digital Video Recorder (DVR) as this is where the main computer processor and Digital signal processor are found.
We can easily list all of the security video software applications available but that would create a list too long for this article.  Instead, we're going to discuss just some of the security video software.  This should give you a good working knowledge of the security video software that is used today.
Let's begin by identifying the three major components in a digital video security and surveillance system.  They are the camera(s), DVR, and monitor.  Generally speaking the cameras and the monitors do not require and security video software.  These items can be thought of as "peripherals" to the DVR.  Often times these two components may have a vast selection of various functions but these are generally a hard-wired circuit or an Integrated Circuit (IC) chip that is built right into the camera's circuit board.
So if the camera and the monitors don't require the use of software in order to be operational, that leaves us one component, the DVR.  The DVR in many ways is like a personal computer that is designed specifically for use as a DVR.  That being said, the first type of security video software is the Operating System (OS) of the DVR unit.  Windows has a variety of OS software such as Windows 2000, Windows XP, and Windows 7.  MAC computers, if they are even compatible with the security system, usually only run MAC operating system software.
All of Security Camera King's DVR's use LINUX as their base Operating system.  Linux is also used in many popular systems as an embedded system (part of the hardwiring and not the software) such as it is used in the digital video recorder TiVo.  Although Operating System software may not directly be associated with security video software, that is it doesn't necessarily contain the programming that tells a camera how to work, it's still important to mention here to make the reader aware of the OS that the security video software runs on.
One of the first security video software that comes to mind is the software that is used to track or follow objects using a Pan-Tilt-Zoom (PTZ) camera.  This software in essence turns the DVR into a motion detector.  In addition the software coordinates the motion detection of the DVR with the commands given to the PTZ camera to keep the object focused and with the parameters of the camera's field of view.
Another totally different type of software is specifically intended to be used on a personal computer.  Actually there are two different types of this software.  The first type allows you to use computer Web cams or Net Cams to create a digital video security system.  However, there can be several problems with this system.  First the Web cams are not anywhere near the quality of a security camera.  Another down side to this is that the computers resources will be busy handling and recording the web cams which will cause a slow down in over all computer performance.
The other type of security video software comes with its own PCI card.  The PCI card is installed in the computer and all of the cameras connect to it. In addition, the PCI card may contain hard disk drives, CODEC utilities, and other important utilities that make the strain on the personal commuter's resources very slight.
There are many other types of software too.  Newer versions of software utilize "intelligent" data that can recognize an individual by their face.  There are also special cameras and software for recognizing license plates clearly and legibly while the car is moving at a high rate of speed.
If you have any questions about obtaining security video software for your personal computer or for any other reason, please feel free to contact our security experts.  Security Camera King has an excellent technical support team that is waiting to help you.  You can contact them by on-line "Live Chat" or via telephone at 866-573-8878 Monday through Friday from 9AM to 6 PM EST.