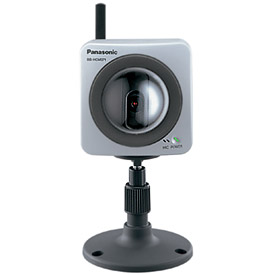 Security Camera King offers a full line of color cameras for home security. Innovative technological advances have yielded a vast diversity of color digital video cameras with almost unlimited versatility for home security. These cameras now offer features that, not long ago, would have been cost prohibitive or simply unavailable. In addition, today's color cameras for home security are light weight, easy to install, and simple to use.
There are three basic types of camera based on shape; box, bullet, and dome. Each can be useful as color cameras for home security. Generally speaking, the dome camera is used most often indoors because of its low profile design. Box cameras may also be used indoors but are a bit more conspicuous. Usually, box cameras cannot be used as outdoor cameras unless they are placed inside a protective enclosure. Bullet cameras may be used indoors or outdoors, however these cameras are frequently weatherproofed and designed for use specifically outdoors
A typical home security system consists of the color digital cameras, Digital Video Recorder or DVR, and a monitor. The cameras capture a video image and pass it on to the DVR where it is processed and stored. The monitor is used to view the image in real-time (live) or review older footage.
Digital video color cameras for home security normally use one of two sensors to produce a video image: The Charged Coupled Device or CCD; or the Complimentary Metal Oxide Semi-Conductor or CMOS. When these sensors were first used the CCD was more expensive and produced a higher quality video image but recent technological improvements have put the CMOS on close to, or even par with, the CCD.
When considering purchasing color cameras for home security, it's important to know a little information about the sensors since they affect how the camera produces an image and even more so, the price. These sensors range in size from about ¼ inch up to 1 inch or so. Generally, the larger the chip the higher the resolution (quality) of the video image produced.
These sensor chips can be built so they are very sensitive to light. Color cameras for home security that contain these types of sensors are called day/night vision cameras and can produce high-quality color images with very little available visible light.
These sensors are also inherently sensitive to certain types of infrared radiation. Using infrared Light Emitting Diodes or LEDs as spotlights, cameras with these sensors can create high quality monochromatic video in total darkness. (The infrared light created by the LEDs is invisible to the human eye.)
There are other options to consider when purchasing color cameras for home security use. Digital video cameras require that a coaxial RG-59 video transmission cable be run from each camera to the DVR. If you will be installing cameras where cabling would be difficult, you may want to consider the wireless camera option. Wireless cameras transmit their video signals via built in transmitters and on-board antennas to a corresponding receiver unit that forwards the signal to the DVR.
Another convenient option is to use IP ready color cameras. IP or Internet Protocol ready cameras for home security systems contain their own server so they can be connected directly to the internet. These cameras can be viewed and controlled using either a simple web browser such as Internet Explorer or their own computer software. You can network your entire home video security system with these cameras using just an internet connection to each camera and can monitor them anywhere there is internet access.
If your home security system requires that your cameras not be obvious, there are several hidden or disguised camera options available as well. These cameras, designed for covert use (they make great nanny cams for example), are designed to be hidden or disguised as other objects. Security Camera King stocks a wide selection of the cameras that appear to be other objects such as smoke detectors, motion detectors, exit signs, sprinkler heads, speakers, wall clocks, telephones, thermostats, clock radios, and many others.
So if you are in the market for digital video color cameras for home security use, check out all that Home Security King has to offer. Not only do we offer color cameras for home security use but we also offer the entire system, whether you need a 4, 8, or 16 channel system. To view our catalog of products click on the appropriate heading in the left sidebar of our home page.