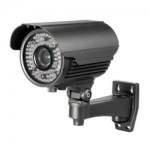 A home security gate camera can alert to you to approaching visitors long before they reach your door, prevent unwanted and unnecessary solicitors and assist in providing gate access control.
Home owners often start their residential digital video camera security system with a single home security gate camera. However, after using this camera for a while and realizing the potential security and monitoring power of a digital video camera, they usually return to purchase an entire digital video security system for the house and residential property. This is easy to do as there are systems that easily support up to four, eight, or even sixteen individual cameras.
A home security gate camera used in tandem with a remote electronic gate lock and opener can provide you with security guard "like" control of your property's entrance. This can be accomplished by using a digital video security camera with audio capturing technology (or an intercom) and either a wired or wireless electric gate lock and opener.
When a visitor arrives at the gate entrance, the user can look at the security system monitor to see the individual's face and/or the vehicle they are driving. Once the home owner has identified the visitor, they can press the remote gate lock and opener button to allow the individual to enter the property.
For individuals with large homes on abundant land and long driveways, this feature is particularly useful for controlling access to the residence. Some may want to modify the system a bit and use a two-way intercom so that a conversation can take place between the user and a visitor if need be.
There are some features available that you may want to consider before purchasing your home security gate camera. First and foremost, the camera must be an outdoor type camera. These cameras are specifically made with an enclosure or case that provides protection from the weather and elements. These cameras often utilize the International Electrotechnical Commission's Ingress Protection or International Protection (IP) code.
The IP code consists of two digits, with the first digit representing protection from solids and the second digit representing protection from liquids; the higher the number of each digit the better the protection. The ranges of digits are 0-6 for the first digit and 0-8 for the second digit. An outdoor camera with a rating of IP55 or greater should work fine.
If you want a camera that can capture images 'round the clock (24/7), you may want to consider providing flood lighting at the gate for night time monitoring. However, a cheaper and much easier alternative is to use a home security gate camera that has infrared night vision.
Night vision infrared cameras work both in daylight and in darkness. The camera is sensitive to near infrared spectrum radiation "light." The infrared light is provided by on-board infrared producing Light Emitting Diodes or LEDs. These LEDs are normally arranged in an array around the camera lens so that they provide a floodlight of infrared illumination in the camera's field of view. This light is invisible to the human eye, but visible to the camera.
If you are interested in monitoring more area than just the gate or visitor, you may also want to consider a Pan-Tilt-Zoom (PTZ) camera. These cameras can be remotely controlled by the homeowner to move horizontally or vertically to increase the camera's field of view. Images can be enlarged by using the zoom function. Many DVRs (Digital Video Recorders) have programming that can automatically control PTZ cameras to track or follow objects.
Whether you have the security system installed by a professional or are installing it yourself, you may also want to consider a wireless, battery operated camera. Digital video cameras require that an RG-59 type coaxial video transmission cable be run from each camera to the DVR unit (or monitor if no DVR is used). In addition, each camera needs a low-voltage DC wire run to it for a power supply. A wireless, battery operated camera eliminates the need for any cabling and makes installation a snap.
There are a lot of choices for someone looking to purchase a home security gate camera. Today's technological advancements have yielded a large variety of optional features that have made home security gate cameras even more powerful, providing the protection you need.