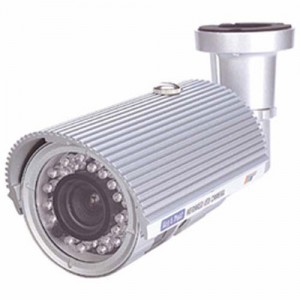 Nothing can offer you the peace of mind in security and the power and flexibility of application and use like a wireless PC compatible security camera. Thanks to modern electronic technology advancements and the growth of internet applications, a wireless PC compatible security camera is also reasonably priced to be affordable for just about any budget.
What exactly is a wireless PC compatible security camera and how does it work? We'll attempt to answer these questions in the following article in order to give you a better understanding of the device and help you to decide if it is right for your security and monitoring application.
Before we talk about a wireless PC compatible security camera, let's describe a basic standalone system first. A standard digital video security camera system usually consists of one or more digital video cameras, a Digital Video Recorder or DVR, and a monitor. The digital video cameras are connected to the DVR by a video transmission cable, usually RG-59 coaxial cable. A cable must be run from each camera to the DVR unit.
The camera(s) captures light images and converts them into electronic video images. It also converts the data created for this into digital or binary form using an on-board analog-to-digital processing chip. The digital data is sent to the DVR where a Digital Signal Processor or DSP, a highly specialized computer processor dedicated to making videos, uses the data to create a digital video file. The digital video file can be viewed in real-time (live) and/or saved on the DVR's hard disk drive for later viewing, copying, etc.
A wireless PC compatible security camera captures the image and creates the digital video image in the same manner. However, it differs by transmitting the initial digital data from the camera wirelessly and by storing the data on a PC's hard disk drive. Basically it eliminates the use of a standalone DVR and processor unit as well as a separate monitor. This has advantages and disadvantages that we will discuss later.
Most wireless PC compatible security cameras are their own little system. The camera captures the image, transfers it into digital form, creates a type of digital video file and then sends it via an on-board transmitter to a corresponding wireless internet connection such as a wireless router or wireless modem. The camera unit usually has its own IP address that identifies it on the Internet.
Using a common Internet browser, the user can access the secure camera with a username and password, and monitor as well as control some functions remotely from any personal computer, Mac computer, Apple iPhone, iPad, iPod Touch and even 3G and 4G smartphones. Some cameras have the ability to move horizontally and/or vertically to increase the range of the camera's field of vision and may be able to enlarge objects in the field of vision. These cameras called Pan-Tilt-Zoom or PTZ cameras can be controlled remotely from a computer Internet browser as well.
These cameras normally use MPEG4 or MJPEG video compression to reduce the size of the digital video file to make it easier to send via the internet. Generally, you need not be an IT professional to install and operate these cameras. All you need to do for most wireless PC compatible security cameras is mount the camera and install some software from a CD onto your computer or download an application (app) to your smart phone and your ready to go.
These systems use the PC to replace the standalone DVR unit and monitor. If the user wants to record the video files for archiving or later viewing they can normally save them on their computer's hard drive. If they choose to view them live, they can watch them on the computer's monitor using most common internet browsers such as Internet Explorer, Firefox, etc.
As mentioned earlier, there are advantages and disadvantages to using wireless PC compatible security camera systems instead of standalone systems. Probably the greatest single advantage is lower cost due to the fact that a standalone DVR or monitor is not required as an existing personal computer can be used instead. Also, since the Internet is the medium for distributing the final video file, the cameras can be remotely accessed from anywhere in the world there is broadband internet access.
There are disadvantages. The system could be prone to computer viruses, Internet bog downs, and using so much of your personal computer's resources that it effects the computer's performance for doing other tasks.