At Techpro Security Products we sell surveillance equipment to people from all walks of life, from the experienced installers to the non tech savvy end user. The process of installing your own security camera system is not overly difficult but if you don't have access to the necessary information it can become quite challenging. This article is going to give you all the guidance that you will need to install your own system. When you purchase any CCTV equipment from us it also comes with lifetime technical support for those items. This means that you can always contact us for any questions about your installation although hopefully this article will help you to handle the standard installation steps.
We offer several different varieties of security camera systems and since it is not possible to cover the specifics of installing each type, this article will cover the steps involved with putting together an analog system. This analog technology has been used for decades now and although it's the oldest technology, it is still widely used for new security camera installations every day. Even if you are going to use one of the newer types of systems, the installation steps discussed here are very similar to those which are involved in setting up all varieties of security camera systems.
The first step in this process is to purchase all the necessary equipment. Here is a list of the items you'll need.
A DVR (Digital Video Recorder) – The video signal from the surveillance cameras is transmitted to this device for recording. DVRs come in various sizes which allow you to connect a different number of cameras to them. 4,8,16 and 32 channel DVRs are typical sizes. For this article we'll talk about installing an 8 Channel Ultimate DVR or the DVR-LT08240. You will need to install a hard drive in this unit for the actual recording or we can put one in it for you.

DVR-LT08240
Security Cameras – This is the device that captures the video and transmits it to the DVR. There are many different types of cameras available today but they all preform the previously mentioned function in addition to any other capabilities that they might have. Also, the analog security cameras that we sell always have the same type of connections for video and power. For this article we'll talk about installing the OB-LX700IR50-W.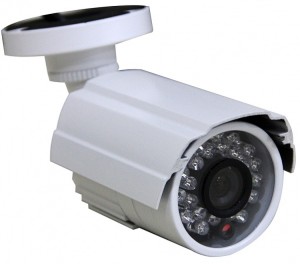 OB-LX700IR50
Power Supply – All of your security cameras will connect to this device and it provides power to them. We offer several different types of power supplies that vary in the amount of cameras you can connect to them, as well as the amount of amps and voltages that they supply. For this article we'll talk about installing an 8 channel power distribution box or the PWR-8. This is a 12 volt power supply that provides 4 amps in total or 500 milliamps for each channel.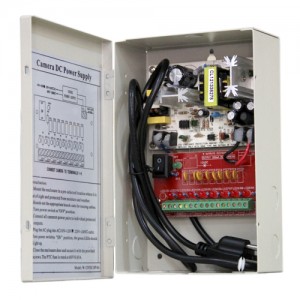 PWR-8