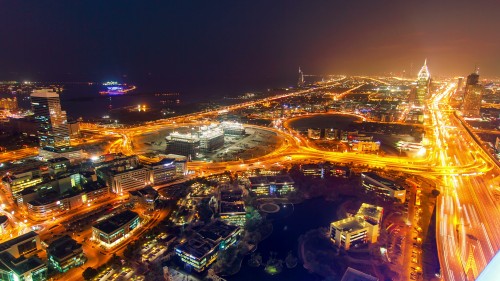 You can do that? Or, in other words, a few interesting ways to utilize your video surveillance systems.
OK, we know the basics of a camera system. Record video, see what happened. But, it turns out that there are quite a few unusual ways to implement video surveillance systems.
We have seen time lapse recordings of building construction, plants growing, and flowers blooming. Bet you didn't know that you can do that with your surveillance system, did you? This was developed by Jose Malave in our sales department. He did a beautiful job with it.
Also, you can check out the whole article How to use an IP camera to create a Time Lapse Video for a Web Page
Another interesting thing is when you have two areas that you need to get video from, but there is no way to run wire. Across streets, across pavement, where you physically cannot trench or hang wires. OK, we have a solution for that. Our TP-LocoM5 wi-fi bridge will transmit video over 9 (NINE!) miles. You can also use these to get Internet to remote locations. Even VOIP phone systems. Your imagination is the only limit. Comparing to the old generation of wireless for analog signals, these are far better performance and far better costs. Oh, I said two areas? You can run many more that just one set. Each set can handle up to 8 two megapixel cameras, lots of bandwidth available here.
Our Wireless access point/bridge will allow you the ultimate flexibility when it comes to IP cameras and DVR wireless transmission. The TP-LocoM5 is very versatile and can be used in several different ways. The most common use is as a wireless IP bridge. You can use 2 of these units to allow you to mount an IP camera or DVR outside in a location that would be either difficult or impossible to wire to. You will connect an Ethernet cable from your network to one of these wireless devices, then mount the device outside (these units are weatherproof) facing in the direction of where the IP camera or DVR will be mounted. The second unit will be mounted on the pole, tree, wall or wherever you have the IP camera or DVR mounted. This will allow you to create a wireless bridge between your network and the IP camera or DVR you have mounted outside. One of these units is powerful enough to provide wireless transmission of several IP cameras or DVRs if they are in the same general location and connected to a switch. With up to 150mbps of bandwidth available and up to 15KM of line of sight distance capability, you are sure to be thrilled with the results. Each of these devices can be configured as an access point and can connect a non wireless device directly to your wireless network. When you purchase this unit from us, you also get our free tech support to help you with your configurations and setup. Oh, the price is right too! In the past, analog transmission systems were in the thousands of dollars. Now you can have a really good IP transmission system for under 200.00!!
How about a camera that will track an intruder? And also will generate an alarm if an invisible line is crossed? You can do that, too.
Here is a 2MP ONVIF Pan Tilt Zoom Camera (PTZ) that has an amazing auto tracker built right in. Auto tracking is the ability for the camera to follow an object such as a human or vehicle until that object is beyond the view of the camera.
One feature of this Auto Tracking PTZ is within its Intelligent Video Surveillance Function. Using virtual "tripwires" you can literally draw with your mouse on screen lines where you would like to put a "tripwire". It will act as if you have a laser beam outside, but instead this camera is so smart, it knows when an object moves across this tripwire and will set the auto-tracking into motion. When hooked up to our NVR, it can also send an email alert when an object crosses the tripwire or set off a siren or strobe when connected to a relay system.
Patterns and tours can also be programmed into this camera. It comes preset with 5 patterns and 8 tours.
This ONVIF IP PTZ has a 4.3mm to 119mm lens giving you up to 30X Optical zoom, and comes equipped with a 1/3 inch Exmor CMOS Image Sensor.
At night this PTZ has a powerful IR of up to 250 feet, so day or night it will send a 2 megapixel (1080p) TRUE HD Image to our NVR.
This 1080p Pan Tilt Zoom camera also features a 4000 volt anti-lightening surge protector and is IP66 rated making it weather resistant.
There is also an SD card slot with a max of 64GB. The SD card is not included. A 24v AC Power Cord is included, as well as free tech support and a 2 year warranty.
Pretty cool, huh? For a LOT more info on these sophisticated features, look at an article written by one of us, Ian Bailes. He is much more than the funny guy dancing around on our product demo videos. Check out the Smart Features of an IVS Camera and what this camera can do.
Our suggested camera for this application, use our IPOB-EL3MPIR100L2812-US.
Have you heard about the newest tech in CCTV? 4K. 12MP video, supreme clarity. We now have a NVR that offers this feature, along with many more. NVR-ELHS-64-4K-DH, 64 camera capacity, hot swappable hard drives, Our 64 Channel High Definition NVR is a powerhouse of a security recorder. It can record up to 64 ONVIF IP Megapixel Cameras at the same time up to 12MP each. Wow! This is one of the most powerful NVRs on the market today. It also utilizes the new 4K display technology so that you can view your cameras on your Super High Resolution 4K Monitors. Of course the detail is amazing on a 1080p monitor as well.
The hard drives are completely Hot Swappable and are easy to install. Just click open the front panel and put the hard drive in. When you want to swap it out, there is no need to shut down your NVR. That is the great thing about a Hot Swappable Hard Drive capable security recorder. You can install up to 8 Hard Drives at one time. We currently sell hard drives from 1TB to 6TB, so there is a potential of 48TB total hard drive storage..
Another of my favorite functions is Facial Detection. This means that when the video catches a face, it will recognize that image as a face, record it on a special file, e-mail an image (if programmed to do so), and let you know to check it out. This is not a true facial recognition system that requires a huge data base, but a simple version. IPOB-EL3MPIRL2812-US is our camera with this function.
So, as you can see, there are a lot of interesting things that you can do with our camera systems, and probably a lot more not shown here. Please, let me know if you have some that you feel like sharing.