Infrared Beams With Security Cameras
Hi everyone, Joe here, and today we have a really exciting article and accompanying video for you today; We're excited to show off our new product which is designed to create accurate alerts and reduce or even eliminate pesky, redundant false alerts; Introducing our new state-of-the-art Infrared Beams designed to work with our security cameras! We carry multiple iterations of these devices designed to work in twin, triple, or quad setups. That's two beams, three beams, or four beams working together. Some of the sets are larger in size and have slightly different values for the total signal strength seen within their signal strength indication LCD panel on the receiver units. This is because of the number of sending and receiving beam lenses on the units to determine the maximum distance and connectivity for these products. As mentioned earlier, they come in 2, 3, and 4 lense models. These are capable of up to 100 meters, 200 meters, and 250 meters of signal connectivity for the beams respectively to the 2, 3, and 4 lense variants.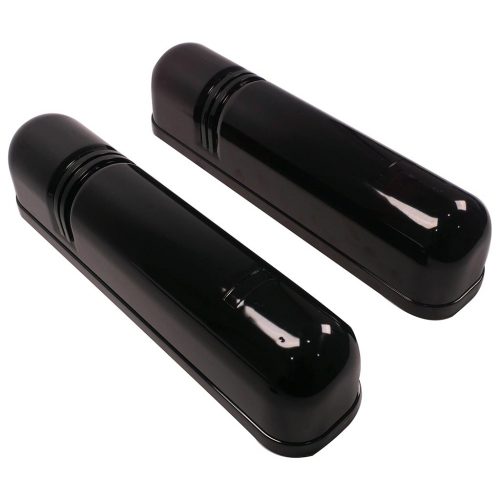 Believe it or not, one of the most amazing things about these new infrared beams, is they need very little power to run effectively and power up. the Beams actually only require  One Hundred milli-amps of 12 to 24 volt DC power. In fact, in the example we use within our video in which we have two beams set up to a PTZ camera, we're powering these units via a 7amp hour battery with no power loss issues. The operation behind them is fairly simple as well and doesn't take many configurations at least on the beams themselves. You are, however, going to have to configure whatever devices you have the beams connected to in order to have that device react to any signal triggered on the beams alarm I/O. In our video example, and one of the best ways we recommend this device be used is tied to security cameras to trigger their functions such as recording and notifications. 
The beams are each powered by the Positive and negative leads which can be connected to any 12-24v Power supply. The infrared beams can then be connected to any alarm I/O source from the NC/NO/and common leads here. The units then need to be positioned so there is contact between the sending unit pushing out the beam, with no obstructions under normal conditions, out to the receiving unit which is looking for the beam. The level of signal quality is indicated by the LCD screen on the receiver.  On the twin setup, the quality goes up to 4.0, However, the beams will register nonbroken connectivity as long as the reading is at least a signal quality of 1.0.
In our video, we take the 4 Lense unit and mount it to a pole off camera. As this is the receiving unit, we place it and power it in such a way that it can reach the Alarm I/O on our pole-mounted 4MP PTZ camera. Then we take another beam, the sender, and attached it to a temporary pole solution and place it about 100 meters down, where we can safely create this example. We now have this unit tied to our PTZ camera system and have it set up to trigger a small PTZ action, send a notification to our APP, elite viewer pro, and begin recording at that moment, let's check it out!
Awesome! So we were able to see in the video that there are ways to mark this particular kind of footage for easy reference later on. Generally, this is, and now if we weren't on site we would now definitely know there's footage for us to check, so let's take a gander!  Ok so in the search for this camera we can clearly see, as we have it configured to record on 'alarm trigger; that an alarm trigger recording occurred here where we triggered the beams, and sure enough.. well check it out for yourself below!
Much like the digital IVS tripwire rules, these beams are designed to deal with creating very specific circumstances for recording and notification. But even more than IVS these beams really reduce false alerts, making your footage record and notifications accurate!  For more information on this product or any other false alert reduction solutions, give our sales pros a call at 561 288 5258. If you enjoyed the video or found it helpful, don't forget to toss us a like and hit subscribe to our channel for even more content. Thanks for stopping by, and until next time- stay safe!