Security cameras for small businesses, commercial locations, and homes have all seen a lot of improvements over the last few years. Infrared or IR IP security cameras are now some of the most popular products on the market. And there are now more options than ever before. Fortunately, there are some basic things to take into consideration to help you choose which IR IP security cameras are right for your wireless security system.
You can read more about how to choose the top IR IP security cameras for you below. If you are looking for a new full wireless security system, check out Choosing the Best Wireless Security Camera System in 2018. Or, for home surveillance, take a look at our Most Popular Residential IP Security Cameras in 2018. Be sure to visit our website to look at all of the different IR IP security cameras we carry in our vast collection of CCTV and surveillance equipment. There you can also read more security articles, tutorials, product comparisons, and more.
How to Choose the Best IR IP Security Cameras for You
Whether you are a small business owner looking to protect your building from vandalism or a private homeowner looking to prevent break-in attempts, IR IP security cameras are an asset. Now, more than ever, you can find some really great products that fit just about any budget.
With that being said, it can be difficult to cut a huge product selection down.
If there are so many different options, how do you choose the right security camera for you? Let's take a look at some of the most important factors to consider first before choosing an infrared IP network security camera.
How big or small is your property size?

What IR distance does your security camera need?

Do you have a single camera or multi-camera surveillance system?

Are you looking for a fixed-point bullet, dome, or PTZ security camera?

What is your budget?
Once you have answered these questions, narrowing down your choices should be easier. For example, you probably won't need a security camera capable of zooming in on a license plate just to point at your front door. Or, you probably won't need a vandal dome security camera if it is going to be installed up high and out of reach.
Security Camera King's Top 5 IR IP Security Cameras
2MP Sibell Economy IR IP Bullet Security Camera (IPOB-SB2IRE28)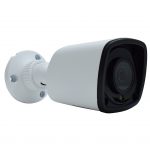 Megapixels: 2MP

Lens: 2.8mm

IR Distance: 65 feet

Dimensions: 8in x 4in x 4in

Price: $55.95
***View our Day/ Night Demo of the 2MP Sibell Economy IR IP Bullet Security Camera HERE.
4MP Elite Economy IR IP Dome Security Camera (IPOD-ELE4IR28W)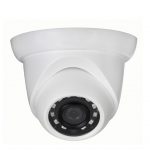 Megapixels: 4MP

Lens: 2.8mm fixed lens, F2.0

IR Distance: 98 feet

Dimensions: 4.25in x 4.25in x 3.15in

Price: $119.95
2MP Sibell Varifocal IR IP Bullet Security Camera w/ Starlight (IPOB-SBS2IRV)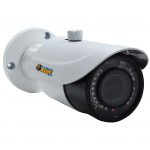 Megapixels: 2MP

Lens: 2.8-12mm @ F1.4-2.8

LEDs: 2

IR Distance: 98

Dimensions: 8.62in x 3.43in x 3.43in

Price: $94.95
4MP Sibell Motorized Zoom IR IP Vandal Dome Security Camera (IPVD-SB4IRZA)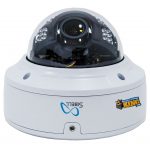 Megapixels: 4MP

Lens: 3.3-12mm

LEDs: 24

IR Distance: 65 feet

Dimensions: 5in x 5in x 4in

Price: $129.95
3MP Sibell IR IP PTZ Security Camera w/ 20x Zoom, Starlight, & TVI/AHD (IPPTZ-SBS3IR20XHD2)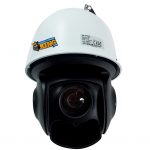 Megapixels: 3MP

Max Resolution: 2048 x 1536

Lens: 5.5-110mm zoom

Pan Rotation: 360° endless rotation

Dimensions: 12.48in x 8.2in x 8.2in

Price: $535.46
To view all of our wireless IP security cameras, click here: All IP Security Cameras
Security Camera King is a wholesale distributor of security cameras and surveillance equipment. We partner with an entire network or industry-related companies to be a complete source for all your security needs. Call us at 866-573-8878 to ask us about any of our products or services. Or you can Contact Security Camera King for more information.
Facebook | Twitter | Google+ | YouTube
IR IP Security Cameras