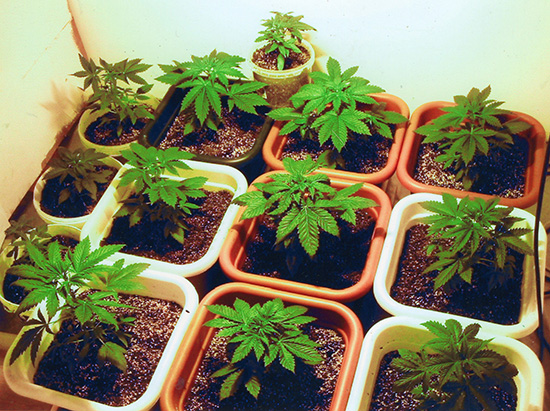 You are probably asking yourself, how do these go together?  The reason being is that most people hear of someone growing marijuana and they think illegal drug dealer, not profitable business.  For the last several decades you were right, but times have changed and so has the industry.  In recent years there has been some dramatic changes in the perception and regulation of marijuana, whether it be for medical marijuana or recreational use marijuana.  In recent years more and more citizens have voted to allow for the use of marijuana in different ways.  As the laws have changed so has the regulations for this industry.
One state in recent months that has legalized the recreational use of marijuana has been the state of Washington.  With the legalization of use, also came the legalization of cultivation.  With the cultivation lawmakers have put in place a series of requirements that growers and sellers have to follow in order to be in compliance with state laws.  The following information comes from Washington State Liquor Control Board's i-502 compliancy.
(2) Alarm systems. At a minimum, each licensed premises must have a security alarm system on all perimeter entry points and perimeter windows. Motion detectors, pressure switches, duress, panic, and hold-up alarms may also be utilized.
(3) Surveillance system. At a minimum, a complete video surveillance with minimum camera resolution of 640×470 pixel and must be internet protocol (IP) compatible and recording system for controlled areas within the licensed premises and entire perimeter fencing and gates enclosing an outdoor grow operation, to ensure control of the area. The requirements include image acquisition, video recording, management and monitoring hardware and support systems. All recorded images must clearly and accurately display the time and date. Time is to be measured in accordance with the U.S. National Institute Standards and Technology standards.
(a) All controlled access areas, security rooms/areas and all points of ingress/egress to limited access areas, all points of ingress/egress to the exterior of the licensed premises, and all point-of-sale (POS) areas must have fixed camera coverage capable of identifying activity occurring within a minimum of twenty feet of all entry and exit points.
(b) Camera placement shall allow for the clear and certain identification of any individual on the licensed premises.
(c) All entrances and exits to the facility shall be recorded from both indoor and outdoor vantage points, and capable of clearly identifying any activities occurring within the facility or within the grow rooms in low light conditions. The surveillance system storage device must be secured on-site in a lock box, cabinet, closet, or secured in another manner to protect from employee tampering or criminal theft.
(d) All perimeter fencing and gates enclosing an outdoor grow operation must have full video surveillance capable of clearly identifying any activities occurring within twenty feet of the exterior of the perimeter. Any gate or other entry point that is part of the enclosure for an outdoor growing operation must have fixed camera coverage capable of identifying activity occurring within a minimum of twenty feet of the exterior, twenty-four hours a day. A motion detection lighting system may be employed to illuminate the gate area in low light conditions.
(e) Areas where marijuana is grown, cured or manufactured including destroying waste, shall have a camera placement in the room facing the primary entry door, and in adequate fixed positions, at a height which will provide a clear, unobstructed view of the regular activity without a sight blockage from lighting hoods, fixtures, or other equipment, allowing for the clear and certain identification of persons and activities at all times.
(f) All marijuana or marijuana-infused products that are intended to be removed or transported from marijuana producer to marijuana processor and/or marijuana processor to marijuana retailer shall be staged in an area known as the "quarantine" location for a minimum of twenty-four hours. Transport manifest with product information and weights must be affixed to the product. At no time during the quarantine period can the product be handled or moved under any circumstances and is subject to auditing by the liquor control board or designees.
(g) All camera recordings must be continuously recorded twenty-four hours a day. All surveillance recordings must be kept for a minimum of forty-five days on the licensee's recording device. All videos are subject to inspection by any liquor control board employee or law enforcement officer, and must be copied and provided to the board or law enforcement officer upon request.
Alright, now that you see the law lets talk about the systems that will meet these requirements to keep your location in compliance.  Based on the bare minimum requirements, any of Techpro Security DVRs or NVRs will work.  To meet the absolute requirement of 640×470 pixels will put you into any DVR that can record in D1 resolution (704×480).  Since there are no required minimum frames per second stated, you can get away with a Techpro Security Mini Economy DVR .  This unit will record D1 resolution and 7fps (frames per second) on all channels.  It is also accessible for remote viewing, which makes it meet the requirement of IP internet protocol of the recorder.  Based on the 45 days that is being required to be stored and recording 16 cameras at D1 resolution and 7fps, you will need a minimum of a 3TB hard drive.  You can calculate a rough idea of the amount of hard drive space you will need with Security Camera King's Hard Drive Calculator.  If it was my operation, I would want to have more than the "bare requirements".   I would do a Techpro Security Ultimate Series DVR ,  the problem with only using the mini is that to record 16 cameras at D1 resolution and 30fps you will need 10TB of hard drive space, and the mini unit will only hold up to 6TBs of hard drive.  I would step up to the Ultimate Full Size, with this unit you can put in up to 8 hard drives or a total of 24TBs of space.  You will also want to upgrade the cameras from a basic OD-CM600IR50-B camera to a minimum of the OD-LX700IR50-W.  Although the basic camera meets the requirements of the law, I am not a "bare requirements" type of person.   Based on the fact that marijuana plants are very sensitive to light, I would shy away from using any camera with greater than a 50 IR distance in any area where growing occurs.  Otherwise you could turn your plants unusable from too much stress.
Now if this was my business and my livelihood, I would go all out to protect my investment.   I would use a Techpro Security NVR and Techpro Security IP Cameras.  The reason I would go this route is that the resolution on these cameras are at a minimum of 720p and go up to 1080p.  I don't know about you, but I want to know exactly what is going on with my investment and know if anything ever happened I would be able to catch the perpetrators.   If I was looking for a system already put together for me I would go with Security Camera Kings pre-built Complete 16 Camera Elite Series NVR Security Camera Surveillance System.  With this configuration you will need to have at least 15TB of hard drive space to stay in compliance.  I would personally put in 18TB to slightly exceed the minimum, because the last thing that I would want to have happen is be even a couple hours short of the 45 day requirement.   Now if I was trying to be a little more conservative on my spending, the next system I would go with would be an analog system with more cameras to give me over coverage, an example would be the COMPLETE 32 CHANNEL DVR ULTIMATE SECURITY CAMERA PACKAGE.  I would at a minimum upgrade the cameras to the OD-LX700IR50-W and add at least 19TB of HDD space.  Now if a pre-built package won't work for you, there is a really cool option of creating a Custom Built Package, which offers the same discounted products but you can customize the equipment to meet your exact needs.
No matter what way you go, you can't go wrong with a system from Security Camera King, even the base records will meet the requirements of the State of Washington Liquor Control Boards requirements.  The only thing you will want to make sure of is that whatever recorder you go with can hold enough hard drive space, so make sure to use the CCTV Hard Drive Calculator.  The last thing you want to do is fall short on this one requirement and either get fined or worse lose your license.  It has been way too long of a wait to be able to grow and cultivate marijuana.
Click Here to Learn More About Our Cannabis Security Program