In this article, I will go over how to add an ELITE IP camera to a PRIME Series NVR that has built-in POE. For this example, I will be doing this at the local interface. You can also take a look at all of our ELITE IP security cameras and PRIME Series NVR options available on our website.
Okay. Let's begin the tutorial. First, begin by right-clicking with your mouse on the screen. Then select Menu. Once you have selected Menu, select Camera. This is one way to get to the IP camera screen.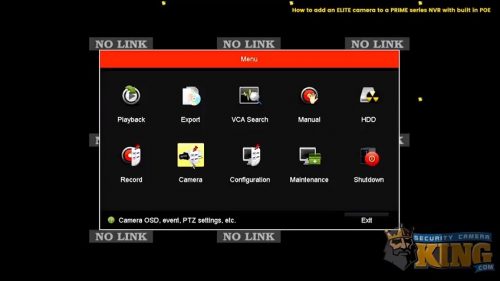 If you want to learn the other route for getting to the IP camera screen, follow these steps. Back out to the beginning screen. Right-click to open up the Main Menu. Then select Add IP Camera.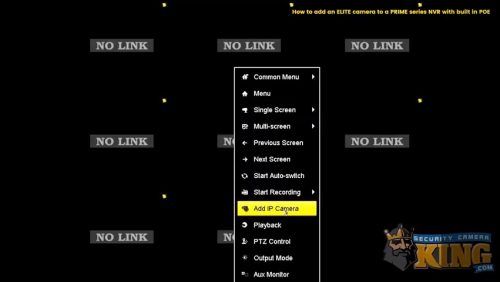 Once in Add IP Camera, you should see your IP Camera at the top. For this example, I have an ELITE Series IP Camera on the local network. In order to bypass the local POE and use the local IP address, select the Edit icon next to your IP Camera Address.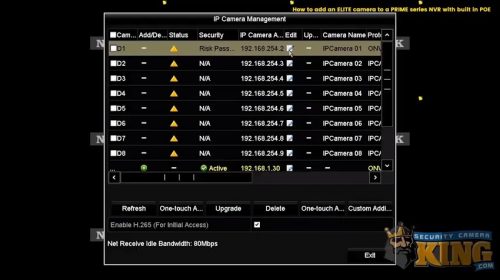 Once you have selected Edit, locate the drop-down menu next to Adding Method. Since I am using an ELITE IP camera, I will need to make sure it is on Manual. The other choice, Plug-and-Play, is only for PRIME Series IP cameras.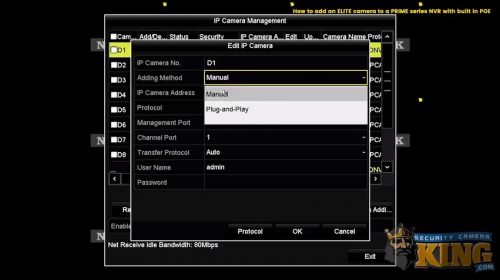 Once it has been set to Manual, click on the box next to IP Camera Address. This is where I will enter my local IP address. After I enter the local IP address, I want to make sure the Protocol is set to ONVIF. The Management Port will be set to 80. The Channel Port will be set to 1. The Transfer Protocol will be set to Auto. Then I will just need to input my Username and Password. Once all of these have been set, I will select Okay.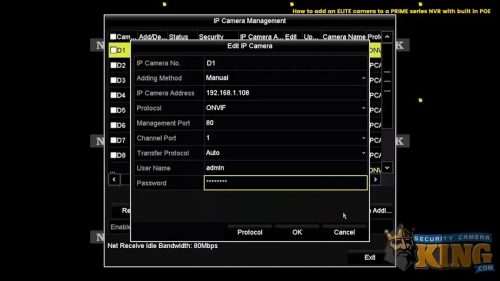 Once I have selected Okay, I will be able to see a live image up in real time.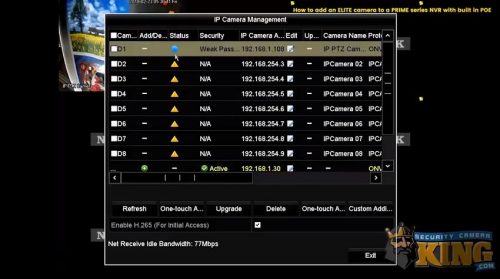 And that's how to add an ELITE IP camera on a PRIME Series NVR. I hope this article has been informative and helpful. Follow along in our video walkthrough below if you are having difficulty understanding any of the steps.

For more product details on an ELITE IP Camera or PRIME Series NVR, visit our website. Be sure to look at our entire collection or PRIME Series and ELITE Series products there, along with a huge catalog of other security cameras, video recorders, and related surveillance equipment. Read how to enable motion detection on a PRIME Series NVR.
PRIME Series NVR | Our Partners
Security Camera King is part of a wide-reaching network of companies that offer a variety of services related to the security and surveillance industry. This network branches into every aspect of our professional field, including manufacturing, installation, and technical support. To learn more about a company or service, visit any of the links provided below for more information about who they are and what they do.
Security Camera Placement, Surveillance System Setup, Alarm Installation Services
TechPro Security is South Florida's number one professional installation team. They specialize in installation services for security cameras, surveillance systems, alarm systems, access control equipment, and CCTV. They offer clients a free estimate and regularly provide tips and tricks to make sure you are getting the most out of your current or new security and alarm systems.
Live Video Monitoring Service
Digital Security Guard provides a live video monitoring service using remote access. With remote video monitoring, they are able to survey and protect locations big and small, nationwide, from their central location in Boca Raton, FL. Their live video monitoring service is a cost-effective protection option for any size residential, business, or commercial property. They let clients choose between their own custom surveillance schedule and an around-the-clock, 24/7 remote video monitoring plan.
CCTV Manufacturer & Wholesale Supplier
eLine Technology is one the top manufacturers and wholesale suppliers of CCTV equipment, security cameras, and other innovative surveillance products and solutions. Their relationship with security camera distributors, like Security Camera King, is what gives us the ability to carry and offer top-of-the-line equipment at low, wholesale prices. Visit their page to use their new and improved Support Portal.
Award-Winning Customer Service & Technical Support Team
USA Support Team is made up of friendly and knowledgeable team members that are based solely in the United States. Each team member has an exceptional knowledge of all of our products, including ELITE IP cameras and the PRIME Series NVR. They received numerous recognitions in the area of customer satisfaction many times and guarantee to work with you until you are satisfied that your issue has been addressed and, if necessary, fixed.
PRIME Series NVR | About Us
Security Camera King distributes a wide range of different security cameras, surveillance equipment, and other related accessories from our facilities in Wheat Ridge, CO and Boca Raton, FL. We regularly meet the commercial, residential, and business surveillance needs for clients nationwide, all at unbeatable wholesale prices. Visit our Surveillance page to browse by Series, compatibility, and more. And be sure to read some of our other recent related security articles and watch more product tutorials and How-To Walkthroughs, along with comparison charts, product reviews, and more.
If you have any questions about a service or product discussed in this article or want to know something else about us, please Contact Security Camera King or call us toll-free at 866-573-8878.
Facebook | Twitter | Google+ | YouTube
PRIME Series NVR