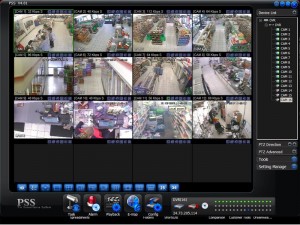 There are many security system devices. For the sake of this discussion, we'll categorize security system devices into two separate groups, digital video security camera systems and non-video security camera systems. In the following article we'll discuss what some of these devices are for both categories.
Our two arbitrary security system devices categories have both benefited by advanced electronic circuit and computer technologies. Improvements in these technologies have directly or indirectly influenced security system devices such that these devices more efficient and cheaper, and in some cases, has made owning a device possible when it wasn't possible to do so in the past.
Digital Video Security System Devices
Digital video security systems generally consist of three basic components. While it's true that there may be additional devices based on the user's choice, nearly every system will contain or use each of these three components: They are 1) digital video cameras; 2) Digital Video Recorders or DVRs; and, 3) Monitors.
Digital video cameras can be further categorized into two types themselves, based on where they are used. Indoor cameras are used in situations where they are not exposed to weather and other outside elements. Outdoor cameras are enclosed in a protective case so they can withstand exposure to weather and the elements.
Both indoor and outdoor cameras have many features that allow them to be used as highly specialized security system devices. How they do this is outside the scope of this article, however we will list some of these devices according to the features that seem to qualify them as different types of security system devices:
• Wireless Cameras;
• Very light sensitive low-Lux day/night vision cameras;
• Night vision infrared cameras;
• Pan-Tilt-Zoom or PTZ cameras;
• Camera that record video and audio;
• Internet Protocol or IP ready cameras that can use the internet as a vehicle for networking; and
• Cameras with motion detector switching.
DVRs contain a Digital Signal Processor or DSP that reads the camera data and uses it to create a digital video file. This file is viewed on the monitor and or stored for later used on the DVR. Typically, the number of video inputs the DVR can handle at one time (also called "channels") dictates the number of cameras in a one DVR unit system. If we consider different types of DVRs as security system devices, here is a list of some of the more common:
• Four, eight, and sixteen channel DVRs;
• DVR cards that use a personal computer as a DVR unit;
• Wireless DVRs;
• Internet Protocol (IP) ready DVRs; and,
• Miniature DVRs that use miniature storage media such as SD cards or thumb drives.
Monitors are used to view live video or recorded video. Most monitors today are color LCD monitors, just like the ones used for personal computing. Security system monitors may differ from typical computer monitors in the way they connect to the DVR or security camera. These DVRs may have additional connection types that may not be typical of computer monitors (such as BNC connectors).
Non-digital Video Security System Devices
The other category of security system devices is the non-digital video security system devices. For our discussion, this generally means security alarms. Most security alarm systems contain two major components, the sensors and the master control center/dialer.
The sensors are used as type of switch to monitor a particular state of an object such as being open, closed, or in motion. When the sensor has detected the desired trigger, it either closes a circuit with the master control panel or sends a wireless signal to the master control panel to notify it of the change. If we consider different alarm sensors as different security system devices then we can provide the following partial list:
• Door and window sensors;
• Temperature sensors;
• Humidity sensors;
• Poll sensors (detect the presence of someone or something);
• Motion detectors;
• Smoke and fire detectors;
• CO (carbon monoxide) and other chemical sensors;
• Light sensors; and,
• Sound sensors.
Master control panels coordinate the sensors and the alarms, including autodialing telephone numbers and playing a message to the receiving party, if equipped.
This is just a small example of the many security system devices that are available at Security Camera King. Check out our on-line catalogue of items if you are interested in purchasing any security system devices.