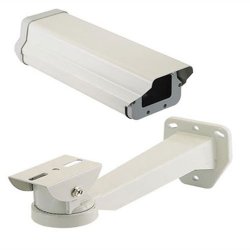 Today's surveillance camera CCTV systems have made "leaps and bounds" in technological improvements compared to the systems from just 10 to 15 years ago.  Not only that, but the camera's prices have steadily decreased with the increase in technology.  All of this has lead to video surveillance cameras becoming a "household word" for family protection and safety as well as business protection and workplace documentation.
Original surveillance camera CCTVs were based on analog signals.  These systems and components of the systems were often referred to as CCTV or Closed Circuit TeleVision.  CCTV was so named because although it closely resembled a typical television studio system, there was one major important difference.
Studio television cameras' video signals were boosted by the broadcast station and sent via radio frequency via a large antenna.  Once the signal left the broadcast antenna, anyone with a receiver could pick up the signal.  Video surveillance cameras however, sent their signal along a cable, directly to a specific monitor and recording device.  In this respect, the system was a "Closed Circuit TeleVision" system.  In fact, any system used for monitoring, surveillance, or security in this manner was referred to as a CCTV system.
Today, video surveillance cameras still operate on a CCTV based system, but to be accurate, we must redefine CCTV to make it somewhat looser in application.  Although modern digital video surveillance cameras also transmit their video signals via a cable to a Digital Video Recorder or DVR and one or more monitors, they also employ additional methods for transmitting their signals that must be taken into consideration of the definition of CCTV as well.
These cameras may also transmit their video data wirelessly via an on-board camera transmitter and antenna.  These cameras use modern day wireless technology often used in land-line based telephones such as 2.4 or 5.8 GHz technology or 900Mhz technology for broadcasting their signal.  These systems are designed to transmit their signal to a nearby receiver, which is usually plugged in by cable, to a DVR and/or monitor.
Another method that is employed today is the use of the Internet as a vehicle for networking and transmitting.  Video surveillance camera CCTV and their DVRs have the capability for connecting to the Internet.  When they do possess this feature they are often referred to as Internet Protocol or IP ready, because they deliver their transmission using IP format technology.
Although it is true that individuals other than who the video images are intended for can gain access surreptitiously, the intent of these wireless broadcasts and Internet transmissions are directed to a limited number of very specific viewers.  Thus, although our definition for CCTV as now become a bit broader in scope, it is easy to see why even today, these units are often called surveillance camera CCTV systems.
While we are on the subject of CCTV versus new video surveillance cameras, it would be prudent to mention that there is some carry over from the "analog days" of CCTV to the current "digital era" which can make the comparison of components or the selection of a system somewhat confusing.  This primarily involves the use of reference to the detail or resolution of the video image created by the camera and displayed by the monitor.
Electronic video images may show a varying degree of detail.  That is evidenced by the contrast between standard television broadcasts and those called High Definition (HD).  Television was originally displayed on a Cathode Ray Tube or CRT (also called the "picture tube").  The CRT reproduced the image on its screen by shooting an electron beam horizontally at the rate of about 60 times per second.  To a large degree, the number of horizontal lines determined how detailed the video appeared.  In this situation, the more lines, the smaller the lines, the greater the detail of the picture.
Today, however, most televisions are like computer monitors; they are Liquid Crystal Displays (LCD), plasma, or Light Emitting Diode (LED) displays.  These monitors display tiny dots called pixels instead of horizontal lines; therefore, they can display a much higher detail picture.  Yet, many video surveillance cameras still specify their picture quality in terms of the older, horizontal line method.  It's important to know that the lower end of resolution or detail is from about 300 up to 650 TVL (TeleVision Lines).  Video surveillance cameras CCTV with 650 TVL displays can produce very high definition video images.