If you've ever shopped for a security camera system you know there are a lot of options available. Do you go with an economical analog CCTV system or one that's a high definition and state-of-the-art? Should you go with HDCVI or a Network IP setup? Analog cable, CAT5, POE switches, small hard drive or a large hard drive? There is a lot to think about if you want a solution that is going to work for you reliably and give you the quality and functionality you expect.
But one of the most over looked and under-valued components of any modern day security system is TECHNICAL SUPPORT! Without good technical support you might end up with a pile of expensive hardware that was not installed or configured property. Worst it might never get setup at all.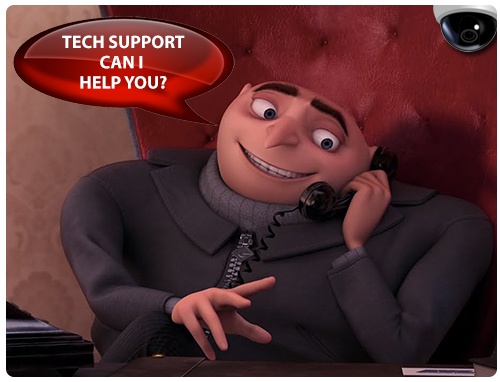 One company that realizes that quality technical support is just as important as the superior products they provide is SecurityCameraKing.com. In addition to all of the product information, product videos, and downloadable content, they also have live technical support for the life of the product. This means you will get FREE lifetime support for any security camera or recording device you buy from them.
Locations in the USA on the East and West Coasts allow for SecurityCamerKing.com to have extended support hours. Live industry experts are available to help you with the installation, initial setup, system configurations, networking and remote viewing / mobile app implementation.
This support starts with the knowledgeable sales team. Whether you are a professional installer or just looking to secure your home or business you are sure to get all the help you need. Many of the sales team members are also experienced security system installers. This level of expertise ensures that the sales associates will be able to answer all your questions and recommend the best security system to fit you specific needs.

The sales staff can also help you plan your installation. They can help you choose the technology that's best for you and they can help determine power requirements, what type of cameras you need, how much storage capacity you want and much more.
Once your equipment has been purchased you will have access to a U.S. based technical support team. As mentioned earlier tech support is Free for the life of the product. Here are just a few things a SecurityCameraKing.com technical support representative can help you with:
DVR Settings: Including but not limited to the following:
Setting up your DVR time and Date format
Setting up Motion Detect for you cameras
Setup you cameras recording resolutions and recording stream settings
Setup motion masking and privacy masking on your camera
Setup text alerts
Setup storage management
Review recorded video
Export recorded video
IP Camera Settings:
Unlike analog cameras and DVRs, IP camera settings are usually stored in the camera itself. Each camera has it own IP address and they can be accessed individually or simultaneously through the use of an NVR (Network Video Recorder). IP cameras also use CAT5 cable instead of coax and can transfer power and video on the same cable with the use of a POE switch (Power Over Ethernet). Technical support can help you setup the IP addresses for your IP cameras and assist with your POE switch and network setup.
Remote Access, Remote Viewing & Mobile App Setup
Every DVR or NVR that SecurityCameraKing.com sells has remote access capabilities and FREE remote viewing software or mobile apps. The Pros at SecurityCameraKing.com can help you set up up remote access as well as get you set up on your PC, MAC, iPhone, iPad, Android Phone or tablet.
If you want to access your home DVR or NVR from a remote location, you must first connect to the IP address that was provided by your ISP. An ISP or Internet Service Provider is the company that provides your Internet like Comcast, Brighthouse or Verizon.
Once you have accessed the home IP address, your router needs to direct your connection to the home DVR or NVR, this is called Port Forwarding.
In addition to setting up your remote viewing apps the SecurityCameraKing.com technician can also assist you with your router configuration and port forwarding to your recording device.
DDNS Account
One more thing to consider when accessing your DVR or NVR remotely as mention above is that you will need to know what IP address your Internet Service Provider has assigned to you. Once you know that IP address you can set up your software or app to go to that IP address (your home's IP) and direct you to your Recorder.
One problem you may face is that ISPs often change your assigned IP address (unless your pay for a static IP address). If the IP address of you house changes, then your software or app will not be able to connect to your home's router until you update the setting with your new home IP address. One way to avoid this is to sign up for a DDNS account (Dynamic Domain Name Service). Simply put, this is a domain name like (YourLastName.FindMyDVR.com) that is aware of you current home IP and will always resolve to your home IP even if it changes.
The great news is that all SecurityCamerKing.com DVRs and NVRs support DDNS and for each recorder you buy, SecurityCameraKing.com will give you a FREE DDNS domain name. Better yet, one of the support representatives will be happy to get it all set up for you.
Even More Support

In addition to the Sales and Live tech support SecurityCameraKing.com offers alternative methods of support including upward of 1000 high quality products, support and how-to videos. There is also an extensive download area where you can find the latest drivers, firmware, software and tools for your CCTV and security equipment.
Live chat for the sales and support department is available on the website Monday through Friday 9am to 8pm EST.
Last but certainly not least there is the CCTV Forum. This is the place to connect with experts in the industry, find answers to common problems and get help on your specific problems. The forum is a 24/7-support source for anyone in need of help regarding CCTV, Home Security, Access Control and more. This forum is constantly monitored by the support staff at SecurityCameraKing.com and is sure to get you the answers you need fast.
As you can see there is much more to a quality security system then just top quality products. The support you receive is just as important and the equipment you buy and the experts at SecurityCameraKing.com are there to give you both.