Description
Description
If you're looking for an NVR with built in PoE (Power over Ethernet) then this Sibell 4K, mini 8 Channel NVR might be just what you need. This is full of features that are common in larger, more expensive units at a price that will help keep you from going over budget. You'll be able to record up to 8MP cameras with this NVR and use it with the latest 4K monitors for true HD viewing! We recommend using this in conjunction with our Sibell line of 4K/8MP cameras since it will conveniently be plug and play but it can be used with any IP network camera that uses the ONVIF protocol.
For those of you that are not familiar with Power over Ethernet or PoE for short, it allows you to plug your cameras into the PoE ports to provide power instead of having to supply a separate switch and power cable. The Sibell embedded GUI allows you to change settings and set your NVR to record by motion detection, manually or by Sensor Trigger and with features such as Smart Search, you can search your recordings by date, time, or event. With the free monitoring software, you can log into your security system from anywhere in the world that you have an internet connection and view live and recorded footage on your PC, MAC, tablet or Smartphone.
We've had nothing but positive input since introducing our Sibell line and that's in part due to the ease of use and thought that has gone into their design. With standard features like an embedded Linux OS, the simple start up wizard and smart IP camera setup can be done quickly and easily with ease by even the newest DIYer! The NVR uses some of the latest H.265 compression formatting that maximizes your storage space and allows to to save data much more efficiently. This NVR has room for 2 hard drives up to 6TB each and when you use the drop down up above to add them to your order, we will install, format and test them before shipping your NVR.
This NVR will come with a complete 2 year warranty, FREE US based tech support and FREE remote monitoring software.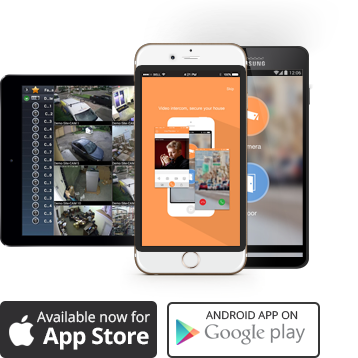 Free Remote Viewing Capability
All of our DVR's & NVR's have remote viewing capabilities. Free Apps & Software are for PC, Mac, iPhone, iPad, Android and Tablets
Specifications
Recorder
| | |
| --- | --- |
| Number Of Cameras | 8 |
| Number Of SATA Connections | 2 |
| Has Alarm Inputs / Outputs | Yes |
| Video Output Types | HDMI, VGA |
| Video Output Resolutions: | 8MP / 5MP / 4MP / 3MP / 1080P / 960P / 720P |
| Size | 1U |
| Resolutions Capable | 8MP / 5MP / 4MP / 3MP / 1080P / 960P / 720P |
| Max Bandwidth | 50Mbps |
| ONVIF Version | ONVIF S |
| Compression of Video | H.264 |
| Connection Apps | Super Live +, Sibell mobile |
Downloads
NVR-SB8M-8P Document Downloads
Sibell Series DVR, NVR, IP Camera Downloads