The AB-EL 16 is an alarm box for Elite DVRs. Elite Series recorders do not have all the alarm inputs and outputs necessary for some of the more advanced features. An Alarm Box allows you to easily add as many as 16 inputs and 6 outputs to your DVR or NVR. This makes it possible to connect and use motion detection, manual triggers, sirens, strobe lights, and more. In fact, the more you are able to connect, the more applications you can enjoy. The purpose of this article is the provide a brief guide on how to configure the AB-EL16 Alarm Box to Elite recorders. Please follow along with me as we go over each step and highlight important things you should know. If you are still having trouble then you can also watch our instructional video below. And to view our extensive online collection of video recorders, security cameras, and surveillance systems, visit Security Camera King.
How to Configure AB-EL16 Alarm Box for Elite Recorders
Let's take a look at how to configure AB-EL16 Alarm Box for Elite recorders. The AB-EL16 is the primary Alarm Box designed specifically for video recorders in our Elite Series. First, we need to make sure everything is connected properly. For this example, I will be connecting the Alarm Box to the Elite recorder using the RS 45 and the A/B. Match the A/B wire colors (green and white) from your video recorder to the Alarm Box. When the connection is good it can be seen by the green LED on the back of the Alarm Box.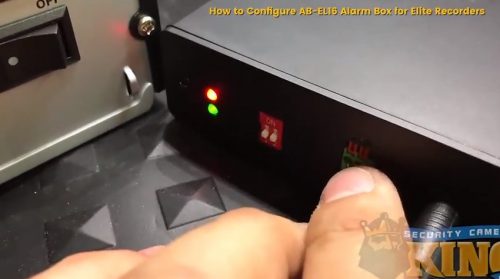 Next, let's go ahead and go into the recorder to show how to configure the Alarm Box. This is how you can get an output (such as alarm output) and connect it to a siren or some other device that you want to operate using the Alarm Box. Go back to the recorder and pull up the Main Menu. Once in the Main Menu, select Event (positioned in the bottom Setting row).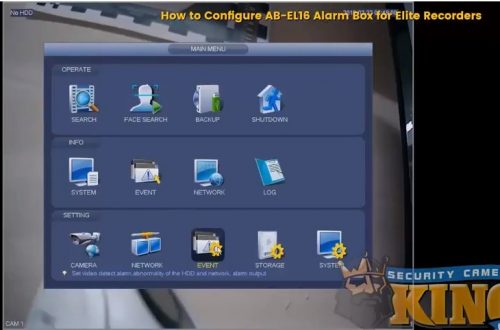 Next, select Alarm. Then select Alarm Box. Make sure that the Alarm box is not grayed out. Once you see that it is connected, click the options next to Type and select NO to make it only open. Once you have chosen NO, select Apply. Then select Save.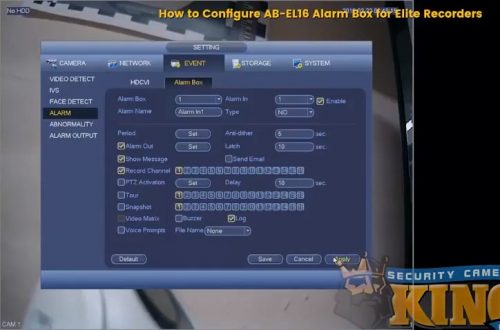 Now, go back to the Event page. Now go to Video Detect. Make sure the Channel is set to 1. Now click the box next to Alarm Out. Now click on Set next to Alarm Out. Then select your Alarm Out (choose between 1-6) to enable it. Then click Save.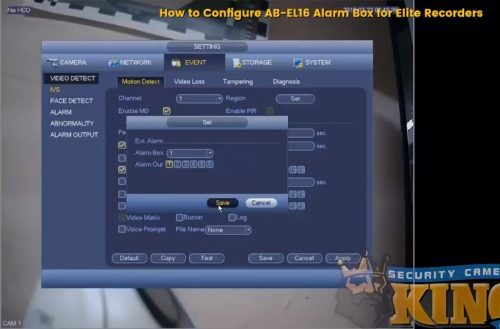 Next, locate Period inside the Video Detect settings. Click on Set. This is where you can choose your recording schedule. For this example, my recorder is set for 24-hour monitoring 7 days a week. Once you have selected your schedule, select Okay to save. Then select Apply and Save.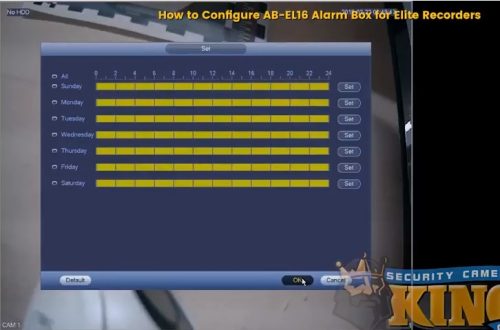 To watch how to test your new setting with an LED, watch our instructional video below.

Want to learn more? Read how to adjust the network settings of an Elite recorder at the local interface here. Or check out how to set up voice prompts on Elite recorders here. Or check out all of our industry-related security articles and view more How-To Videos in our Video Vault.
Security Camera King is a security camera, video recorder, and surveillance equipment manufacturer and wholesale distributor. We carry a huge selection of different products in our online surveillance store. And we partner with other leaders in the surveillance industry to bring all the best products and services together in one place.
View more information on the AB-EL16 Alarm Box available on our website. Call us at 866-573-8878 if you have any questions. Or Contact Us for more assistance.
Facebook | Twitter | Google+ | YouTube
How to Configure AB-EL16 Alarm Box for Elite Recorders