In this article, I will provide the reader with four steps for adjusting network settings from the local interface of an Elite recorder. You can read the steps in an easy to understand guide or follow along with our instructional How-To video provided below.
Security Camera King is a nationwide distributor of wholesale security cameras, CCTV products, and both high-tech and affordable surveillance equipment. We regularly add new content to our CCTV Video Vault and collection of Security Related Articles. Check them out for more informative tutorials, walkthroughs, comparisons, and more. And visit our website to view all of the products we have available. Or view by category here: Surveillance, Access Control, & Sale Items.
Tutorial for Adjusting Network Settings on the Local Interface of an Elite Recorder
Alright, let's begin the step by step guide for adjusting network settings at the local interface of an Elite recorder. To start, first right click and select Main Menu. Then select Network, which is found in the bottom row of the Setting options (not to be confused with Network found under Info in the middle of the page).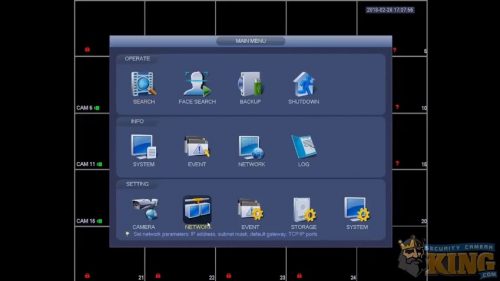 Once you have selected Network, the first page that will come up on your screen is the TCP/IP page. What the TCP/IP provides is the listing for your Static IP, which is set to 192.168.1.108 by default on an Elite recorder.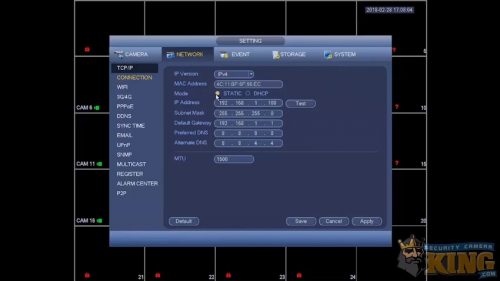 This is also where you want to look if you want your router to assign an IP address to the Elite recorder. To do this, select DHCP mode instead of Static and then save by clicking Apply in the bottom right corner.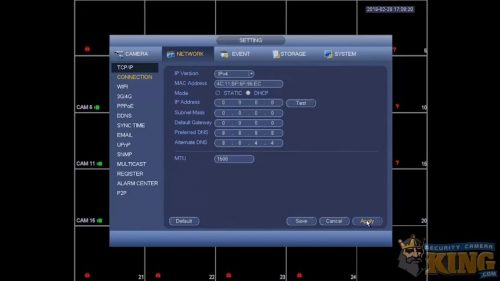 Once you have selected Apply, give it a few seconds and go back to the same Network settings. Now you should see the IP address assigned by your router. For this example, our router assigned the IP address of 192.168.1.236. If you can see the new IP address assigned by your router then go ahead and select the Static option again. Then, to lock that new IP address in, select Apply and Save in the bottom right corner. This will make sure that the IP address is locked in and will prevent it from changing again on its own.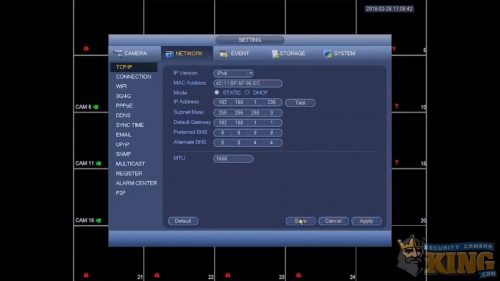 That completes the step by step guide for assigning an IP address using DHCP on an Elite recorder. I hope this article was helpful for anyone having difficulties with this issue. If you have any additional questions or want to watch these steps in action, follow along in our How-To video provided below:

If you are looking for a new Elite recorder or just wish to see other Elite Series products, then click here: Elite Series Collection.
About Us
Security Camera King is a nationwide leader in distributing wholesale CCTV products, security cameras, and surveillance equipment. We carry a massive selection of different products that range from high-tech IR IP security cameras to multi-channel network video recorders (NVRs) and full security camera and surveillance systems.
All of our products are housed and distributed from one of our two locations. We have a West Coast office and warehouse in Wheat Ridge, CO and an East Coast location in Boca Raton, FL. As such, we are able to adequately serve the security camera and surveillance equipment needs for the entire country. Our two locations give us convenient access that allows for fast shipping to any state you might be in.
Additionally, all of our products are backed by our USA Support Team customer and technical support. Their award-winning staff members are well versed in the specs and details of every item that we carry. They provide our clients with help troubleshooting, installing, and using any of the products purchased from our website. And their support team members are 100% US-based!
To order a new Elite recorder or any of our other surveillance products, call us at 866-573-8878 or visit our website. Or Contact Security Camera King via email for more information.
Facebook | Twitter | Google+ | YouTube
Elite Recorder