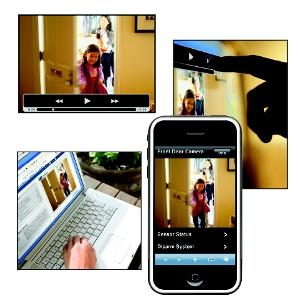 The use of home monitoring over the internet may be your solution to keeping track of things at home while away from home. There are several types of home monitoring over the internet that are being used today including nanny cams, baby cams, nursery cams, pet cams, and security cams. Modern technology has yielded home security cameras that offer a multitude of features and can be networked over the internet while remaining affordably priced.
Home monitoring over the internet can be accomplished in two basic ways. The first is to use an IP camera and the second is to use an older standard analog camera with a hybrid DVR and/or video server. Let's take a look at a basic home security system first and then see how the two methods above are applied.
A basic home analog security system consists of from one to several analog Closed Circuit Television (CCTV) cameras, a processing unit with recorder, and a monitor. A basic home digital video security system consists of one to several digital video cameras, a processor, a monitor, and a Digital Video Recorder or DVR.
An analog system can be converted to home monitoring over the internet by using either a hybrid DVR or a video server. A hybrid DVR "digitizes" the analog video sent by the CCTV cameras on a "capture" board. This is a specific integrated circuit that is dedicated to only capturing analog video signals and transferring them into digital video signals. Once the analog video is converted to digital, it is transferred into a digital video file. However, digital video files can be extremely large so software or a portion of the hardware of the capture board employs a COmpression/DECompression or CODEC utility to reduce the size of the file while maintaining high video quality and clarity.
An analog to digital video server does the same digitizing converting process but does not record the file. Instead it sends the file along the network where it can be handled at another location. The key is that once the analog signal is digitized, using the proper software or hardware equipment it can be manipulated and transmitted over the internet, using the internet as the virtual network for the cameras.
Home monitoring over the internet using modern IP cameras can eliminate a lot of excessive work that is required in converting analog video signals or manipulating non-IP ready digital cameras to make them internet accessible. An IP camera is a camera that is already capable of using Internet Protocol (thus the "IP" designation) to transmit its video signals.
Although these cameras can still be connected to monitors or standalone DVRs, they may also be used with a simple broadband internet connection and a personal computer. The personal computer is usually able to use an internet browser or a software program provided by the camera manufacturer to monitor and record the video transmissions.
Therefore, home monitoring over the internet can be accomplished using the new advanced IP camera technology or by converting the more traditional analog CCTV video to digital and then preparing it for and sending it by the internet. In both cases, once the video transmission is internet ready and is streamed across the internet, you can view your home security system anywhere the internet is accessible. Or if you prefer to have your system "tied" in with a residential security alarm and monitoring system, internet monitoring makes this possible too. n addition, as technology continues to advance it has now made it possible to perform home monitoring over the internet even on a 3G or 4G smartphone, and all of this can be done at affordable "residential" prices.